Today I'm excited to share that I have joined up with more than 30 AMAZING bloggers to tackle the challenge of creating a patriotic project or recipe without using the traditional red, white and blue color scheme! How fun is that?! Starting last week and running through July 4th, more than 30 projects will be shared on some of the most awesome blogs around. I can't wait to see all of the inspirational projects and hope YOU will find some inspiration as well.
For this fun challenge, I decided to create some USA string art that could be hung either inside or outside to celebrate the holiday! It was really simple and I only had to buy two supplies to make it happen, everything else was from around the house!
I used three (relatively) square pieces of scrap wood, stain, small brad picture hanging nails, gold, silver & bronze embroidery threads, 4 S hooks and 8 screw eyes. The only thing not pictured that I added later was some ribbon. Oops! So grab some of that to if you're playing along : )
First up was to stain and poly the scrap pieces.
Next was to add the little nails. If you're the font queen and can do this by just hammering in nails, then where were you when I was doing this project? If you're not, printing and cutting out a block letter as an outline works like a charm!
The rest of it was simple as well! Each letter got wrapped with the embroidery thread and each piece (besides the bottom of the last letter) got four screw eyes twisted into the top and bottom. This makes it easy to put together with the S hooks.
Then to hang it, I added a piece of ribbon through the screw eyes and added little bows to each side. This ribbon is actually make of burlap- I found it at Michaels and have multiple projects planned with it already : )
Hanging it up was the only next step and we had us some patriotic artwork, without using red, white or blue!
What do you think? I love how much metallics are "in" right now and metallics kind of equal sparkly, and sparkly kind of equals fireworks which definitely equals 4th of July. Right? Let's just go with that : ) You know what also would be awesome for the holiday? A $310 Target gift card! Make sure you scroll down to enter before you leave!
Lastly, before you head out, be sure to check out the AMAZING projects that were shared last week AND be sure to enter for your chance to win a $310 Target Gift Card by using the Rafflecopter at the end of the post!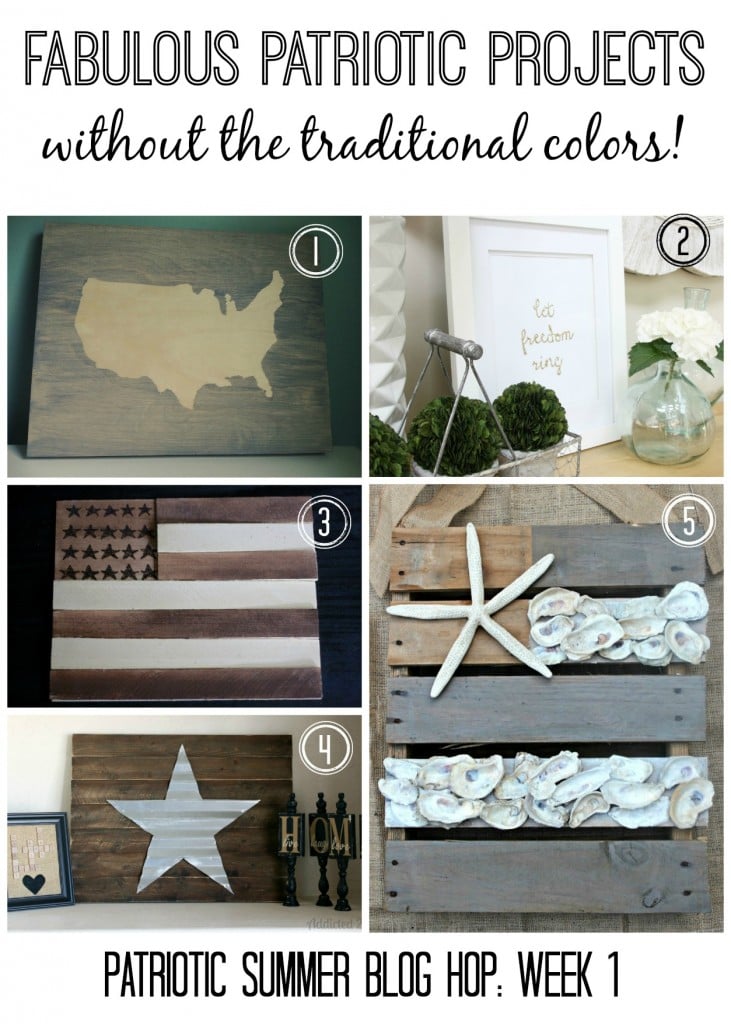 1. USA Map by Paper & Fox
2. Let Freedom Ring Gold Art by Life on Virginia Street
3. Wood Shim Flag by Designer Trapped in a Lawyer's Body
4. Corrugated Metal Star Art by Addicted 2 DIY
5. Neutral Nautical Pallet Flag by Southern State of Mind